Cartoonist and Caricaturist Simon Ellinas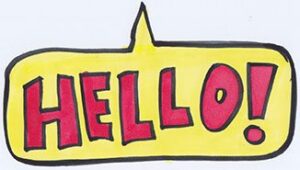 THIS IS SORT of a 'caricaturist biography':  MY NAME IS Simon Ellinas and I'm a caricaturist and cartoonist. Not only that, but I'm currently rediscovering the joys of oil painting.
Born with a pencil in my hand, during the Twentieth Century, Life's veritable smorgasbord of choices did nothing to eradicate my urge to draw and paint.
At school I was careful to avoid any Art courses, preferring, for some reason, the hilariously unsuitable Economics and almost equally unrealistic Latin and French. However, all the notebooks and textbooks from those classes were liberally illustrated in biro with teachers and fellow-pupils being prime targets. So, in a way, I WAS on the right course in that my natural instinct and love of Detention was in full flow.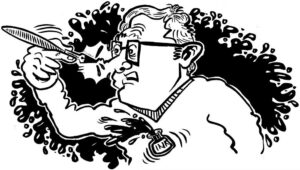 Once liberated from that rarefied Oxbridge-targeted bubble, it was a surprise to find that there was actually a teeming world outside its Colditz-like walls. Swiftly redeeming myself with English and Art (at last!) A-levels at a further education college, I discovered that I could adequately cover a canvas or sheet of paper with paint and pencils at Harrow School of Art. Ignoring the tutors' advice to 'forget the cartoons' I proceeded to sashay up and down Fleet Street, around Soho and Covent Garden, proudly displaying an increasingly-bulging portfolio. These were the days when you could walk in off the street with examples of work and walk out with a commission.
Cartoons and Caricatures in Magazines and Newspapers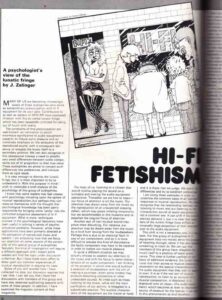 And the commissions started coming in, including this one for the quaintly-titled Hi-Fi News, left, as one of my first ever magazine cartoons.
A few of the publications that my work has appeared in include The Sunday Times, The Listener, News of the World, Life Magazine, Campaign, Midweek, Girl About Town, The Week, Nursing Times, General Practitioner and European Rubber Journal!
While also plying a lucrative sideline with Live Caricatures at Parties, amazing myself by becoming an entertainment caricaturist, I still had time to publish my own magazine Ha! Humorous Arts, run an illustration agency, Squigglers as well as designing magazines for clients such as the Abbey National, Pickfords Travel and (in house at a publishing house) Rolls-Royce.
And so it continues. Occasional part-time diversions into writing, performing comic poetry, producing Chattoon! The Chat Show with Cartoons and running networking groups have still not managed to deplete my natural urge to despoil paper with ink or paint and the digital age has provided a few more tools to speed up the colouring process.
Thus ends my confession. Can I go now? I have a family life, you know. And I like swimming, dogs and painting. Amongst many other things.