Caricaturist LIVE at parties and events
Caricatures drawn on the spot as entertainment at parties and events by a professional caricaturist are always popular – everyone loves to watch an artist draw – and they provide your guests with a unique memento of the special occasion. I'm particularly keen on company parties, corporate events and awards nights, especially if they take place within the London area. The traditional pen on paper method is often chosen but I am doing more live digital caricaturing jobs with the Apple iPad Pro. This way, the colour caricatures are emailed to each person on the spot and they can also be displayed on a large screen at the same time. Printing is also an option, so that your guests can more easily share with each other.
I can be your on the spot caricaturist at all sorts of events: company parties, exhibitions, conferences, birthday parties, weddings, engagement parties, house-warming parties, stag parties, hen parties, product launches, golf days, team-building events, motor showroom launches -in fact any sort of event where a little unique entertainment is needed!
As I've been a caricaturist for many years, and working for many newspapers and magazines, you can be assured of absolute satisfaction and maximum hilarity.
For more of my live activities, see my Youtube Channel.
You can book me for  your party or event by filling in the form below.
Drawing Live on Television and Video and at Parties and Events
I HAVE OFTEN drawn live caricatures and cartoons for TV and video and have produced a series of cartoon-based videos called Chattoon! The Chat Show with Cartoons. You can see a selection on this page. It's not often you see a caricaturist or cartoonist working live on screen but when it happens it is extremely popular.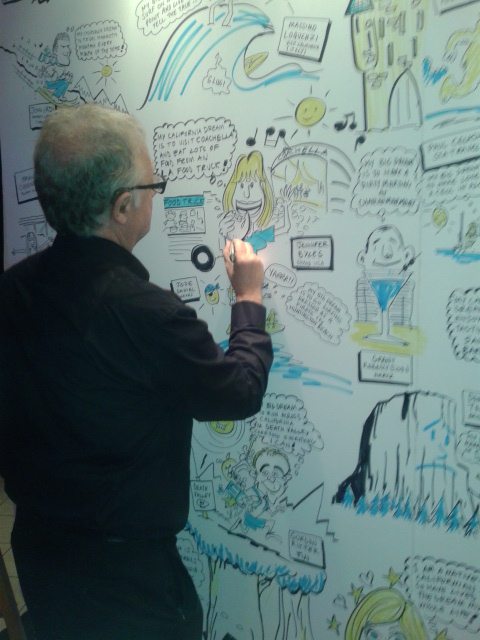 ABOVE: You can hire me to draw at conferences and brainstorming sessions where the visual input helps to clarify the main objectives of the meeting.