Cartoonist and Caricaturist Simon Ellinas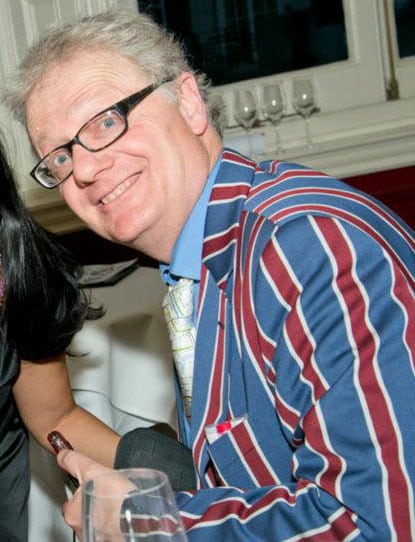 I'VE ALWAYS wondered about what's important in life. When you've taken care of your health and family and looked after your friends and neighbours, the next thing on the list is HAVING FUN. A caricaturist can have that!
What better way of being able to do that than by giving it to other people? It's always been said that I can take nothing seriously (which is true to an extent) and all I want to do is make people laugh for whatever reason.
That's why I am such an asset at people's (your) parties and events, drawing caricatures as entertainment for the guests. That's why I so enjoy drawing caricatures from photos for people (you) to give eachother as gifts. If it makes you smile and if I can give you that pleasure, then that's what I am 'about'. Hence this 'About' page!
The top picture has been cropped, for use as a simple profile pic, but it included two happy smiling people at one of my events, one of whom you might recognise (see left)!
Although I am fully aware of the serious side of life, we all need an escape from such heaviness from time to time and my caricatures and cartoons can give you that. They certainly give it to me! Don't take anything seriously! Least of all me!
You can read a more in-depth autobiography HERE!