JUST SOME of the nice things people have said about me over the years!
I have been using Simon Ellinas for over 25 years to provide an annual caricature of our golf society's Captain. The presentation is one of the highlights of the year. Simon's work is always excellent and we will continue to use his services for as long as we can – Michael Robinson 29/10/2018
Simon was the ultimate professional at our wedding.. Unobtrusive, polite and he delighted everyone with his work – Sharon Bonnington  28/10/2018
Simon attended our Company Golf Day and drew caricatures for our guests at the evening dinner. It was a great source of entertainment for the event. The caricatures were of exceptional quality and all our guests were extremely impressed by Simon's talent. Thank you Simon for helping to make a great and memorable day – Robert Green 27/10/2018
DICKENS' BOZ, Gerald Scarfe, EH Shepherd. You've heard of these paradigm changers, those who brought new context to history with their penetrating insights, social commentary, and savage wit? Well, so has Simon Ellinas.  I first got to know this London-based cartoonist when he appeared – as if by magic – at a gathering of students and started scribbling away. Everyone at that meeting, over 20 people, went home with a caricature of themselves doing studenty things appropriate to their professional station… and a year later, many were still on the walls of the halls! Suffice to say Simon does a bit of caricature in the same sense W. A. Mozart wrote a bit of opera. A tingling buildup which ends in a massive crescendo of emotion that blows the cobwebs from your brain and buffs the sheen of your soul. Who'd have thought that such genius could gush in such quantity from a simple A3 pad and a Magic Marker or two? Simon illustrated people at my wedding, and it's fair to say my guests didn't know what hit them – Chris Worth
JUST A SHORT note to thank you once again for providing such fun and entertainment at the DMT New Year party. I can see your caricatures adorning many a theatre office and box office as I do my rounds of the West End – all of the guests were delighted including Cameron. Thank you so much for all of your time and effort, which combined with your convivial charm just adds the perfect touch to any party. Hoping to work with you again very soon – Delfont Mackintosh Theatres
Simon, I'd like to thank you again for the amazing caricatures you drew at our two Christmas parties for carers in December 2014. It was wonderful to have you at these events as it added an extra special and unique touch to the parties which everyone loved, even those that decided against having their caricature done liked the finish work of art. I was lucky to have had two done, one at each party 🙂 You were personable but professional and I will definitely consider using your services for future events – June x (Carers Network)
SIMON DREW caricatures at an event I organised in Spain and completely blew everyone away with the quality of his caricatures, his humour and his charm. Not only that, but he saved a dinner where the waiters were a bit rude by drawing them and completely transforming their behaviour for the rest of the evening! – Steve Hall
Simon came to my 50th birthday party and drew caricatures of the guests. It went down very well, and many people remarked on how it added to the evening's entertainment. I wouldn't hesitate to recommend Simon for any gathering of people for some light-hearted entertainment. – Jane Hatton
I've been "done" by Simon a couple of times at functions, and he's got me – and friends – to a T. He's fast, funny and a thoroughly nice bloke as well – Jeff Nutbeem
Simon is a charming and accomplished caricaturist. I have observed him at work several times and his work is always well received – Alan Rae
I WANTED AGAIN to say a big thank you for your involvement in our African Footballer of the Year project this year – we wanted to go bigger and better than in previous years and I think we achieved that. I was delighted with the way the cartoon profiles came out, and I hope you saw the results of the edits on the BBC Sport website and Facebook pages – there was a really good response to them, and I think we will, if it's ok with you, frame up the original drawings and send them to the five nominees as gifts – Giles Goford, Senior Producer at BBC Global Sport
A TALENTED caricaturist and lovely guy ! Added a sparkle to our Christmas party – Kareen Rahman
We commissioned Simon at extremely short notice to produce a large cartoon (whilst being filmed!) for us for a political package in our nightly national news programme. Simon took to the brief instantly and intelligently and, to be honest, probably had a a better understanding of what we needed than we did. Not only was the end product immaculate, the process of filming and working with him was a pleasure. Simon was fast, professional and good humoured whilst working under extreme time-pressure. I look forward to working with him again – George Coote, News Editor, ITN/Channel 5 News
HAVING SIMON at our work Christmas party was an excellent idea. Fast, funny pictures that added something different to the evening. I would definitely recommend him and would have him at my own events – Oonagh Molloy
WE WERE DELIGHTED with the cartoon of Jean Claude Juncker that Simon did for Wprost Magazine (14/2017) and would highly recommend him to anyone publishing a magazine or website.- Jakub Wiewiorowski, WProst Magazine
SIMON CAME to my sons 18th birthday party and produced the most entertaining and fun caricatures which are still being talked about today 8 months later! He was unobtrusive but effective and kind with his observations when requested. I would definitely recommend him – Manda Skitt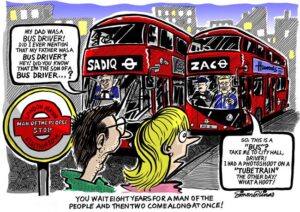 SIMON'S ELECTION cartoons were a pithy response to the 2016 London mayoral campaign: smart, funny and looked great online. – Rachel Holdsworth, Editor, The Londonist Website
SIMON CREATED a cartoon for a poster for my Edinburgh Fringe show a couple of years ago. He was easy to work with, listened carefully to the brief and came up with exactly what I asked for. A talented and professional man – Sam Brady
SIMON IS A GENIUS at interpreting both personalities and concepts into fun cartoons. I have worked with Simon on a number of projects over the last 10 years and in my experience, he always gets it just right! – Jane Gunn, International Mediator and Speaker
THANK YOU SO MUCH for last night – you work was brilliant and having just had the de-brief meeting, everyone is impressed with your input – (For conference cartoon visualisation) – Sonia Mensa, Moorhouse Consulting
SIMON IS PHENOMENALLY CREATIVE. He continues to surprise me in all his work he achieves. A true entrepreneur and has something special about him that is out of the ordinary. I would recommend him in all his multi faceted creative visual and written skills – John Athanasiou, Director of People HarperCollins
YOU'VE BEEN very clever not to upset me – Jenny Eclair, Comedian
YOU'VE MANAGED to make me look more handsome than I am, which is rare for a caricature – Richard Herring, Comedian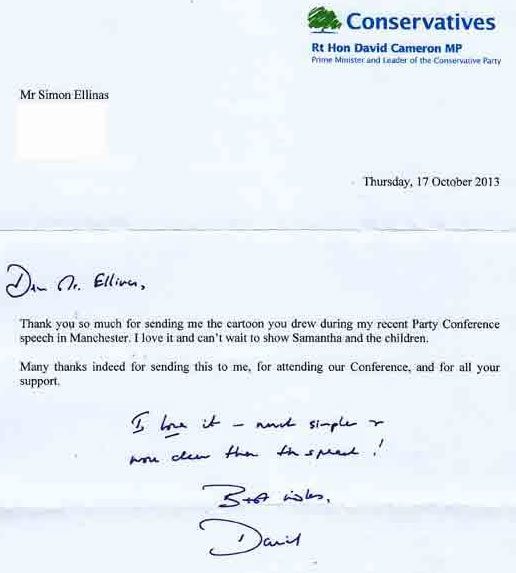 WOW. LOVE the cartoon! I'm going to firebomb your office – can I put it on my website? Thanks. And it reminded me I suit Blue – Jo Caulfield, Comedian
IF ONLY I looked that good IRL – it's fab 🙂 – Sally Bercow
WE LOVE SIMON'S CARICATURES.  We use them on our website where they reach a fine balance, allowing callers to visualise who they are talking to while avoiding the cheesy PR shots so beloved of our competitors – Anna Hern, Ridgemount PR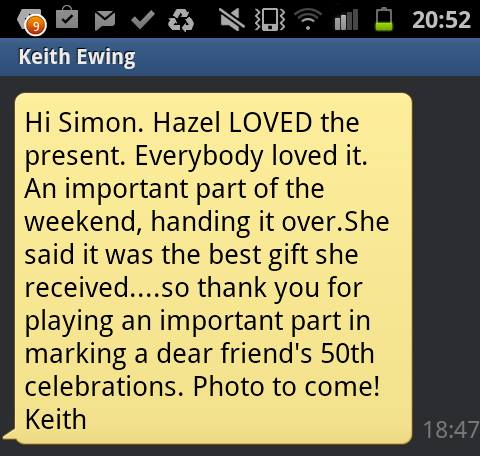 SIMON IS AN 'ideas person' with great enthusiasm who get things done, rather than just talk about them. Working with him on the Chattoon Show was a real delight and much fun, with his organisational skills ensuring things ran smoothly, which was no mean feat! His talent as a cartoonist & caricaturist brings smiles and often chuckles to those 'under the pencil' when they see the result. I highly recommend you hire Simon for on the spot at parties, books, websites and anywhere you need a cartoon! – Debbie Tarrier, Voice Over Artist & Presenter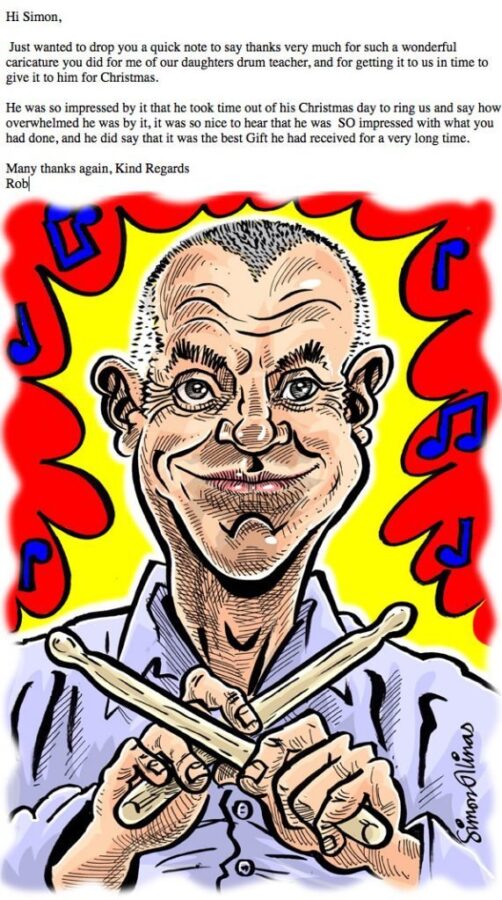 I AM HAPPY to get to know Simon. He did me a favour to make my company crew caricature for 20th birthday of our business in Croatia. I recomend him as excelent person and his work for us is now great decoration in our office – Mario Bozikovic, Director at Mark 2 d.o.o.
Find out more about Cartoonist Simon Here!
On The Spot Caricatures and Live Caricature Entertainment HERE>>>