HA! Humorous Arts MAGAZINE was published in the mid-nineties during a period when the fanciful amongst us imagined that there was a demand for a new cartoon and satire magazine. The main UK cartoon publication Punch had disappeared a few years earlier and Mad Magazine had ceased producing their UK edition, leaving only Private Eye as the purveyor of any sort of cartoony mirth.
As a professional magazine designer, of sorts, for some time, it was fairly easy to throw together a magazine devoted to satire, humour and cartoons. With the help and enthusiasm of a group of talented writers and artists, we developed a product which, by issue five (seen here) looked like it was actually becoming something.
We distributed the magazine, on foot, around London newsagents and were surprised to find that it, generally, sold 40% of the print run.
"There is no success like failure," sang Bob Dylan. Well, there is one thing worse than failure and that is NOT TRYING. Ha! attracted the attention of two major publishing houses, both of whom turned us down because of the perceived difficulty of selling advertising.
Ha! struggled on, in fits and starts in an online form on various platforms, but it eventually became more difficult to sustain the goodwill and enthusiasm of contributors who drifted away to more remunerative pastimes.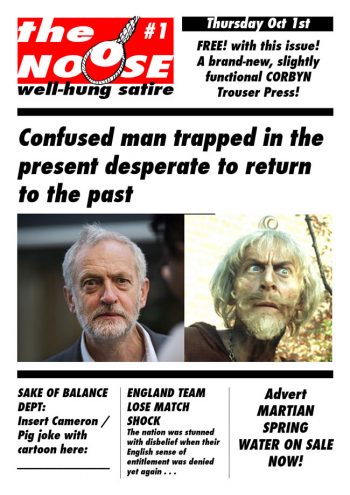 The notion still persists in my nostalgia-addled imagination that a humour magazine would still be a great idea. So much so that I have even mocked up the latest idea: The Noose (right).
One thing you can almost be certain of, if I come up with an idea I will invariably carry it through until it fails. One day, you may be surprised, it may succeed!
Commission a Caricature from Photo HERE>>>