Cartoons Caricatures and Illustrations
HELLO! WELCOME to the website of Cartoonist and Caricaturist Simon Ellinas! This is a virtual portal into my world of cartoons caricatures and illustrations as well as a whole host of other creative pursuits. This space is liberally splashed with galleries of cartoons and artwork as well as videos and photos from a cartoonist's life. Please enjoy exploring and do send me feedback.

What can you use Cartoons Caricatures and Illustrations for?
In Marketing and Presentations, the illustrated page or projected display makes far more impact than simply a block of text and/or diagrams. Simon Ellinas can take the most complex of topics and extract an apposite and memorable illustration that cuts to the heart of the matter in an instant. You can tie in topical events if appropriate and include caricatures of well-known company colleagues. The cartoons can bring to life a whole host of printed matter such as magazines, books, newsletters, mailshots, brochures, websites, blogs and books. My illustrations are increasingly being used in video presentations and on Television programmes. So the possibilities are endless. Just let me know what your requirements are. I look forward to hearing from you.
Commissioning artwork from Cartoonist and Caricaturist Simon Ellinas
Pencil caricature drawings look great on the page, whether in a website, magazine or book. They can also be commissioned as a unique gift for that person who has everything (except for a caricature!) Commissioned caricatures from photos can be of individuals or groups of people (up to sixty!) and are amongst the most popular of my offerings. And drawing caricatures on the spot at parties and events, private, wedding, birthday and corporate, is always a popular entertainment.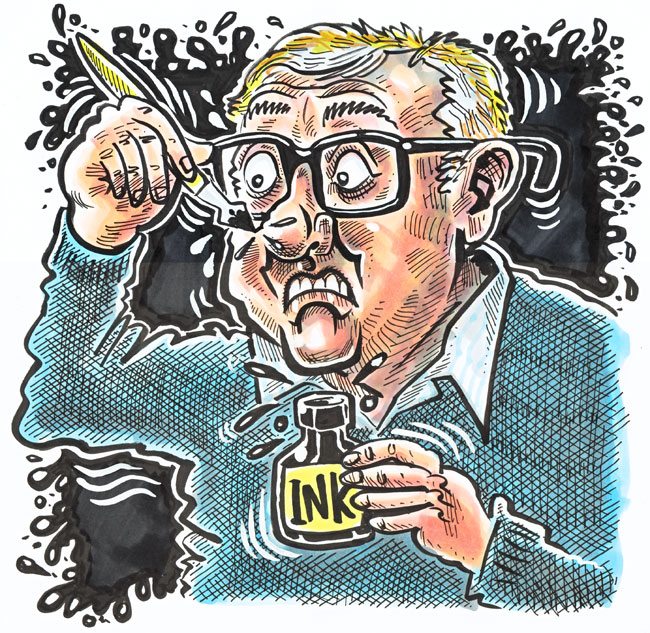 ABOVE: Cartoonist and Caricaturist Simon Ellinas, drawing himself!