Caricatures from Photos
CARICATURE GIFTS FROM PHOTOS make great gifts for all sort of occasions. I am often asked to provide this service for birthdays, anniversaries, weddings and company leaving presents. With a full framing and mounting service also available, this makes the caricature gift totally unique and it will become a beloved memento kept for many years.

The range of styles and treatments is quite varied with prices reflecting the amount of involved in each case. Here (left) you can see the Colour Emailed Caricature which goes out for £99.00.
The options divide between various permutations of Black and White or Colour / Heads and Shoulders / Full Body with Hobbies and/or Groups.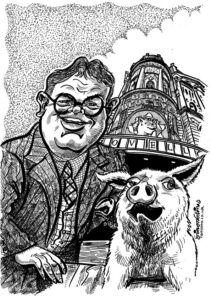 On the right you can see one of my typical black and white caricatures from photos which is arrived at from full details being emailed along with appropriate photos. I usually work to either A4 or A3-size, with the former used mainly for head and shoulders only drawings and the latter being large enough to accommodate more of the body and further details such as hobbies or sports.
I always used to use ink and watercolours or acrylic inks for caricatures from photos commissions but the modern digital age, for better or worse, depending on your point of view, has allowed me to use Photoshop to colour in the finished black and white ink drawings.
This process allows for artwork to be emailed very easily and also for extra prints so that more people can receive a copy; especially useful in the case of group caricatures from photos. I have been able to produce groups of up to sixty people in one composition although the more comfortable number of up to thirty is more usual.
I've received many lovely comments from customers over the years for caricature gifts from photos. For the caricature on the left here, I was delighted to receive the following:
". . . thanks very much for such a wonderful caricature . . . he was so impressed he rang to say how overwhelmed he was and that . . . it was the best gift he had received for a very long time."
And when framing is required I am happy to use Blues Picture Framers.

You can see more about Caricatures From Photos HERE and you can make an enquiry in the order form below.I look forward to hearing from you.