A Caricaturist at an Exhibition
Caricaturist at Exhibition

SOMETIMES IT'S GOOD to get away from the constant treadmill of cartoons and caricatures to soak up some fine art and to gain inspiration from the works of professional artists. So it was when fellow caricaturist Ian Parratt invited me to join him at the Tate Britain's latest offering, All Too Human – Bacon, Freud and a Century of Painting Life. This was a great opportunity to view the actual artworks of such luminaries as Francis Bacon, Lucian Freud, Alberto Giacometti and Chaim Soutine amongst others, including a number of talented young artists specialising in painting from life.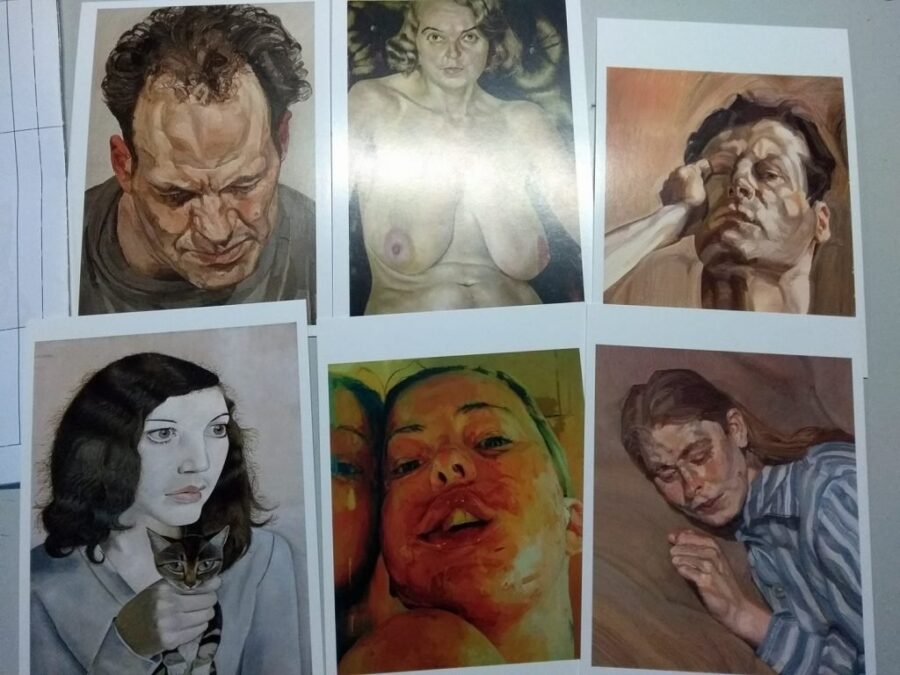 Hopefully not causing any copyright issues, here's a photo of the six postcards I bought from the Tate Britain's shop of some favourites. Clockwise from top left: 1) Frank Auerbach by Lucian Freud; 2) Patricia Preece by Sir Stanley Spencer; 3) Lucian Freud Self Portrait; 4) Girl in Striped Nightshirt by Lucian Freud; 5) Reverse 2002-3 by Jenny Saville and 6) Girl with a Kitten by Lucian Freud.
The postcard selection doesn't reflect the great variety at the exhibition which includes masterpieces by F. N. Souza, William Coldstream, David Bomberg, Michael Andrews and R.B. Kitaj amongst others.
This visit follows a recent one to the National Portrait Gallery and serves as further fuel to my desire to complete a series of paintings I started last year. My art school experience is flooding back as I am enthused by the limitless possibilities provided by water-soluble oil paints and large canvases. It's almost like returning to basics: drawing and painting people and faces, but not in a cartoony way. It's possible that the journey into cartoon illustration and caricaturing was more a financial necessity rather than a completely natural drive.
Here's an unfinished painting which I am looking forward to completing very soon! (The right eyebrow is mostly missing!). Hopefully you can tell who it is!