Cartoon Illustrations in the Daily Mail newspaper

I'VE BEEN LUCKY enough ever since 2020 to have regular cartoon illustrations in the
Daily Mail
newspaper. The City and Finance pages have generally commissioned a cartoon to illustrate their articles when reporting on either the National Budget or on any of Chancellor of the Exchequer,
Rishi Sunak
's Spending Reviews in either July or November. The business editorial team also like to make cameo appearances in the rather busy cartoons.
The cartoons go through several rough stages for approval and amendment before creating the finished inked artwork and then they're scanned in for colouring in either Adobe Photoshop or Procreate (which is quite handy, on an iPad, sitting in front of the television while you work!). Below, you can see just some of the paper and the stages during the production of one the Daily Mail cartoons.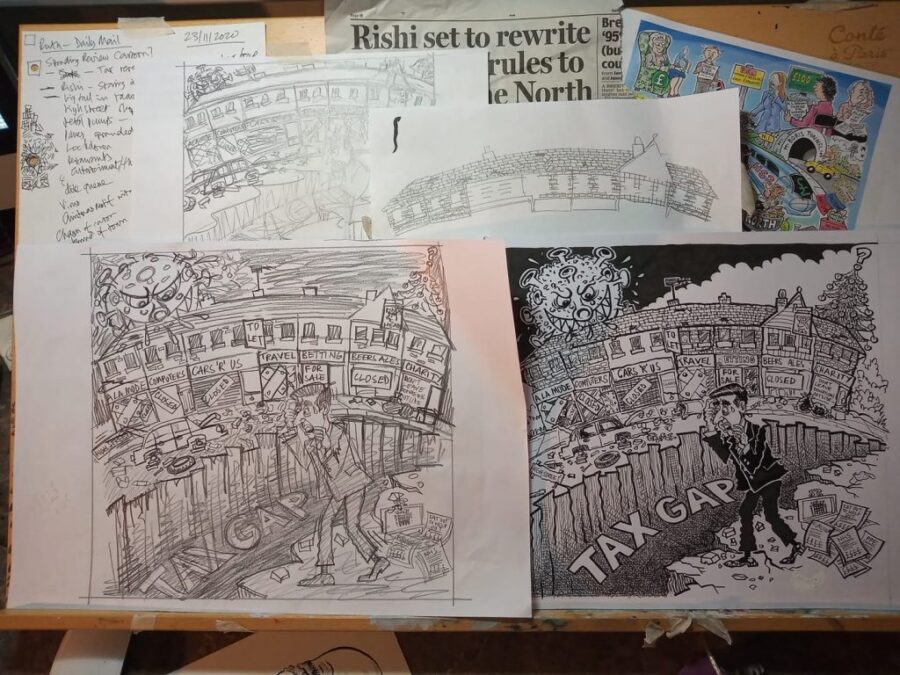 It is always a great pleasure seeing one's work published on paper and, even more so, in a national newspaper. And it is exciting working with the cut and thrust of journalism deadlines and swiftly-changing news stories.
You can see more of my cartoon illustrations HERE and please do CONTACT ME NOW if you have any requirements for cartoons or caricatures of any kind!