Cartoon for 2021 Budget in Daily Mail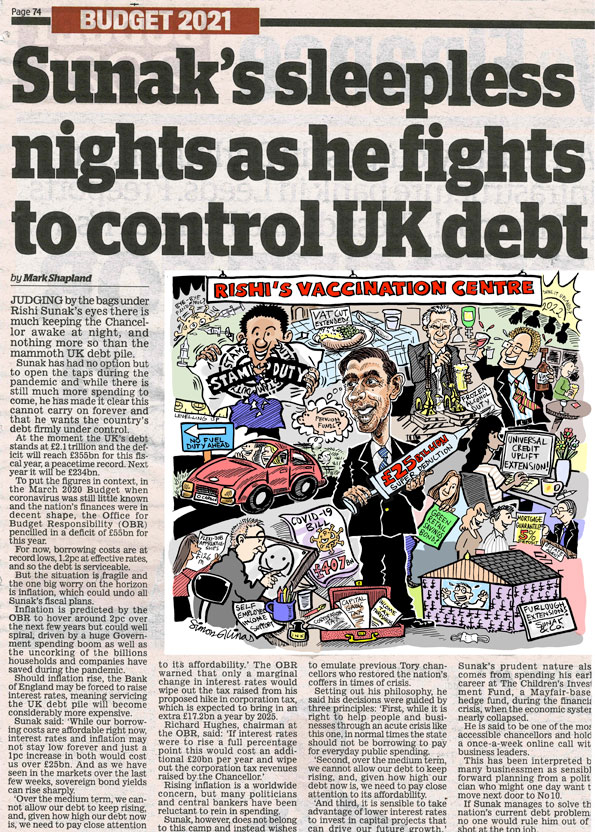 THIS CARTOON for the 2021 Budget in the Daily Mail was produced during the third Lockdown period of the Covid-19 pandemic. This is the fifth cartoon I have done for the City and Finance pages of the Daily Mail and, as usual, the whole process is intensely pleasurable. It is wonderful to be asked back and a huge thrill, as always, to see your own work in print in a national newspaper. With a circulation of around 1.2million, it's possible that my cartoon illustration was seen by 2.4million people!
Alerted to their requirement last week, I kept my eye on the forthcoming Budget predictions from a variety of sources and drew up rough drafts. Some early ideas were abandoned and existing ones adjusted or refined. It just takes a lot of scribbling roughs onto many sheets of paper and then constructing a black ink artwork which is then scanned in and coloured in either Photoshop or Procreate (or both).
As with last year's March cartoon, the City and Finance team like to make an appearance, so we have, top right,  City Editor, Alex Brummer and Deputy Finance Editor, Hugo Duncan enjoying the pub scene while, peeping out from behind Chancellor of the Exchequer, Rishi Sunak, is Business Editor, Ruth Sunderland, holding the note about the Green Retail Savings Bond, which appears to be a version of her own idea of Recovery Bonds.
The inclusion of Self Employed Income Support allowed me to make an appearance at the drawing board, bottom left. In line with a long tradition of artists including themselves in their paintings!
As usual, I am always available to draw cartoon or caricature illustrations for your newspaper, magazine, website or blog! Contact me NOW!