Cartoon Exhibition: Astérix in Britain

Cartoon Exhibition
Astérix in Britain: The Life and Work of René Goscinny at Jewish Museum until September 30th 2018
I HAD THE distinct pleasure of seeing this cartoon exhibition at The Jewish Museum in London. It is an exhibition about the life of the WRITER of the Asterix comic books, René Goscinny who was also a dab hand at cartooning as well. A large proportion of the exhibition displayed original artworks by Asterix artist Albert Uderzo along with panels showing the original typewritten scripts.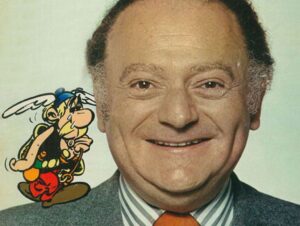 Goscinny, who died in 1977, aged only 51, had a globetrotting career after being born in Paris. His family moved to Argentina where he started drawing, inspired by the illustrated magazines he enjoyed reading, like many cartoonists. After the death of his father, the Goscinnys moved to New York and than back to France (to avoid conscription into the US Army) where he joined the French Army and became the regiment's artist.
He seemed to have relentless energy and inspiration to write and illustrate books and contribute to a whole panoply of periodicals until the fateful day that he and Uderzo created the iconic comic book or bande-dessinée that would become a worldwide phenomenon. The books have been translated into more than 100 languages and dialects. Besides the original French language, they are available in Estonian, English, Czech, Dutch, German, Galician, Danish, Icelandic, Norwegian, Swedish, Finnish, Spanish, Catalan, Basque, Portuguese, Italian, modern Greek, Hungarian, Polish, Romanian, Turkish, Slovene, Bulgarian, Serbian, Croatian, Latvian, Welsh as well as Latin.
This cartoon exhibition is well worth a visit. There is also a small selection of Jewish Cartoons and the rest of the museum is a fascinating and sometimes, understandably, moving insight into the Jewish experience and their lives in London.
The cartoon exhibition is at The Jewish Museum, Raymond Burton House 129-131 Albert Street London NW1 7NB until 30th September.